After a monthslong effort by Neil Johnson of Cadent, web consultant to Newton Highlands Congregational Church; Randy Ellis, chair of the Buildings & Grounds Committee; and Sally Brickell, moderator, the rental spaces pages on NHCC.net have been updated and expanded as of June 2023.
The main rental spaces page includes general information and clickable thumbnails of each space with a link to an individual page about that space. From there, potential renters can look at each space individually, see photos of the space from different angles, and read a description of the space.
Each page also includes the updated Rental Information Request Form. Thanks to the same team, the form is now much more comprehensive, providing useful information for the NHCC building manager and office administrator as they respond to rental inquiries.
Enhanced photos of most of the spaces were taken by Nate Walker, a rising senior at Newton North High School who also took head shots of the NHCC staff in March 2023.
This project was partially inspired by feedback from longtime NHCC member Marian Reynolds. Before the upgrade, the website contained a single page for all rental spaces, with no details and photos of only two rooms.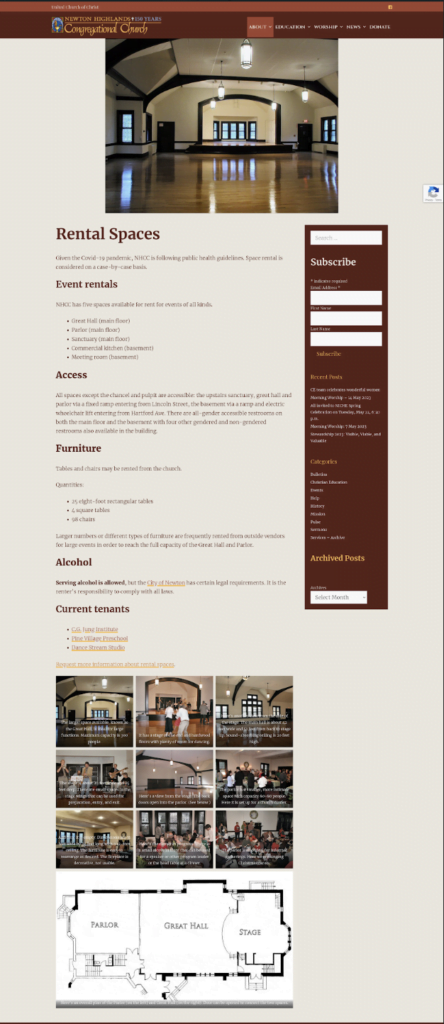 Rental process being streamlined
In addition to renting space to several long-term tenants, NHCC rents space to members, friends, community groups, and schools, bringing in revenue and building bridges in the community. The Buildings & Grounds Committee coordinates rentals with NHCC staff.
Since March 2023, an ad hoc group consisting of Randy Ellis, Sally Brickell, Yoko Bryden, and Sarah Coffman has been working to document and improve the process for space rentals in order to save time and reduce extraneous communication.